Pavilions Teignmouth is dependent on a dedicated group of volunteers
Why not join our friendly team?
Volunteers get involved at Pavilions Teignmouth every day, carrying out a diverse range of duties and keeping the Centre, its management and its activities running smoothly.
We always welcome new volunteers; there are roles to suit everyone. We know that the time you give as a volunteer is based on your other commitments, so if you can only do a few hours a month that is fine… if you can offer more than that, then great.
As a volunteer you will be part of a team, meet new friends, learn new skills and help a local charity.  You will also get to see some great shows, meet performers and watch the latest films.
Read on for details of roles currently available…
Tourist Information Volunteer Opportunities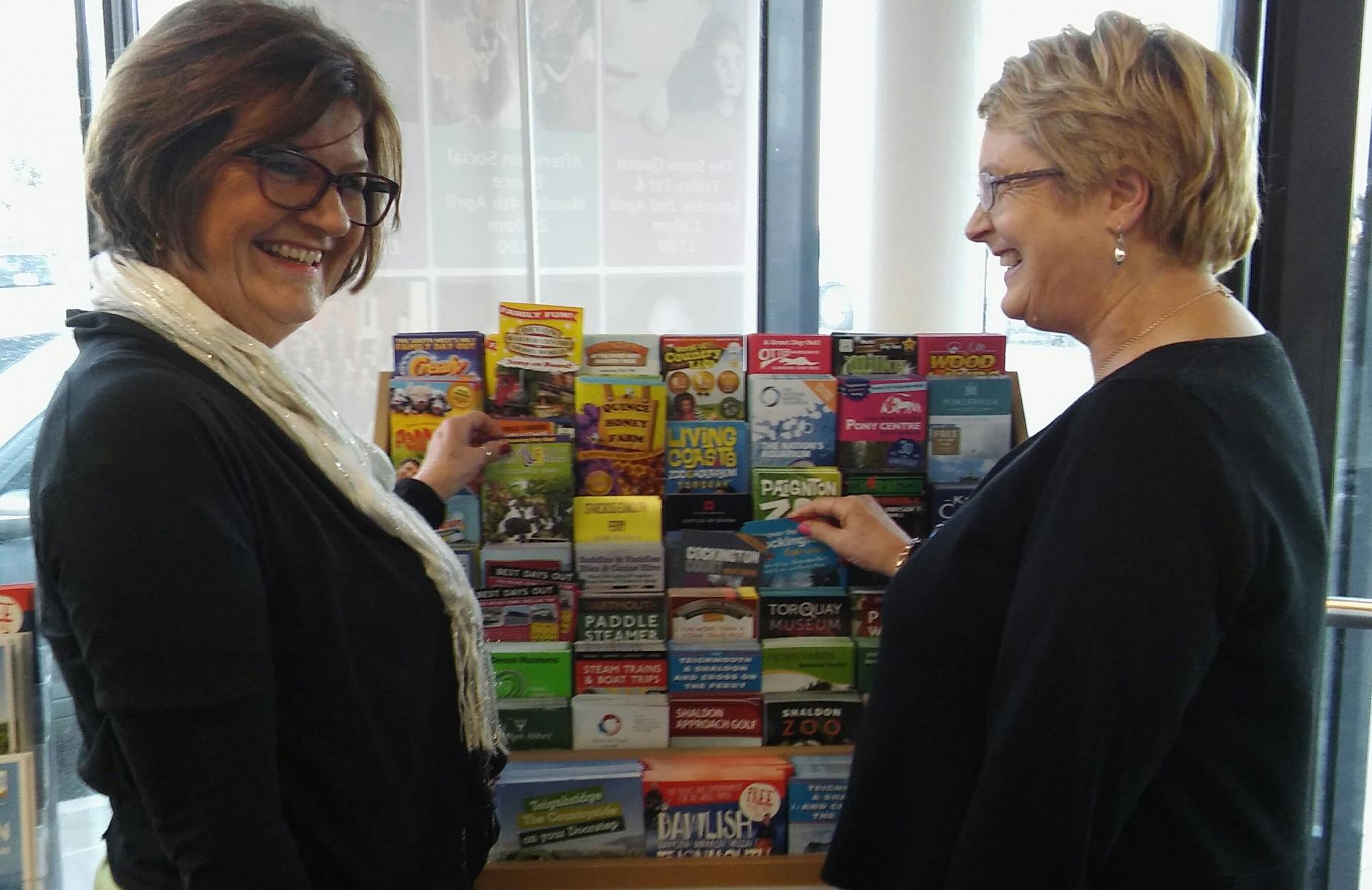 Pavilions Teignmouth is now seeking volunteers to help with the Tourist Information Point located nsidethe building.     
If you are a real people-person with fantastic customer service skills, plus a good knowledge of Teignmouth and the South Devon area, we would love to hear from you.
Volunteer shifts are available mornings and afternoons Monday to Saturday – you can opt for regular volunteering or carry out your role as and when you are available.
Tourist Information Volunteer role description
Box Office Volunteer Opportunities
Pavilions Teignmouth is currently seeking additional volunteers who love interacting with the public and who have a knack with working with an IT database to help on the Box Office.
We are particularly seeking volunteers interested in regular daytime hours on Mondays, Tuesdays, Wednesday afternoons, Fridays or Saturdays, or if you are looking for an ad-hoc role on weekend or weekday day-times or evenings.
Box Office Volunteer role description
Leaflet Distribution & Marketing Support
We currently have a number of volunteers helping us out by placing our regular flyers and posters in agreed locations across the local area, such as in libraries, cafes and shops. Would you be interested in helping out for an hour or two each month with this? You will be helping to spread the word about shows, films, events and activities taking place at Pavilions Teignmouth.
We are particularly seeking help to cover the following areas:
Dawlish, Dawlish Warren (including the holiday parks), Shaldon, Newton Abbot, Kingsteignton, Starcross, Maidencombe, Watcombe and St Marychurch.
We would also be keen to hear from you if you are involved in a club, society or community venue and can give out flyers to your group or put a poster on a noticeboard.
If you would like to help with the distribution of marketing materials, and would like to find out more, please complete our Volunteer Initial Enquiry Form located at the bottom of the page. 
Stewarding
We now have a strong team of volunteer stewards who are covering most of our shifts. However, if you are interested in helping out on an ad-hoc basis on Friday evenings, Saturday day-time or evenings, occasional Sunday day-times, Bank Holidays and school holiday periods, we would love to hear from you.
Steward Volunteer role description
Other Volunteer opportunities include:
If you would like to apply for a volunteering role with Pavilions Teignmouth - please complete our Volunteer Application Form and return via the contact details at the bottom of this page.
If you are generally interested in volunteering at Pavilions Teignmouth in one of the above roles, and would like to make a more informal enquiry, in order to come in to chat to us, before applying, please complete our short Volunteer Initial Enquiry form and either drop it in to Pavilions Teignmouth Box Office between 10am and 3pm Monday to Friday or email it to dawn@pavilionsteignmouth.org.uk